Ethereum has been pretty weak the past month, however, the bulls have finally awaken and they managed to break out of the recent downtrend line with a 5% positive day and a 4% continuation day. Ethereum is currently in a pretty nice daily bull flag without any resistance until $216.58 or the 26 daily EMA. Ethereum is trading above the 12 day EMA but bulls are struggling a bit to keep the price above it. We could see a small pullback in the short term.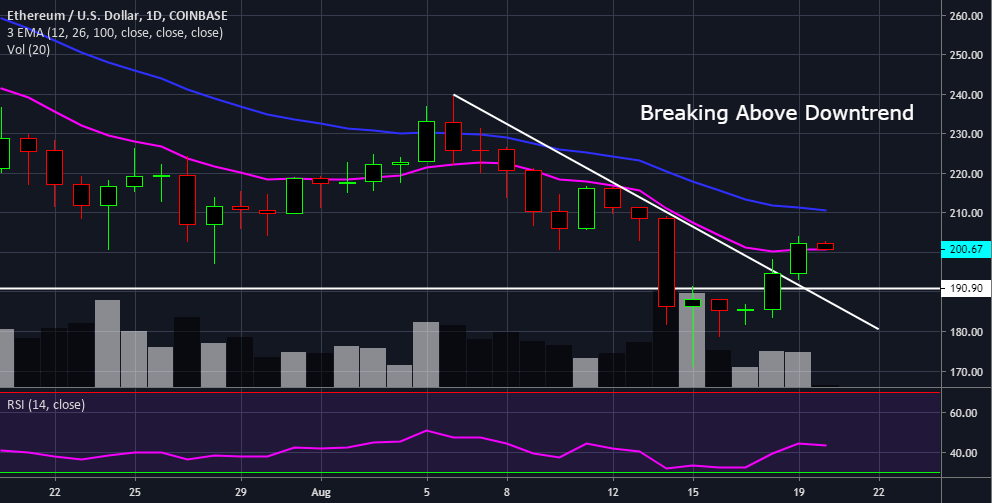 Things were looking pretty bad for Ethereum after the bears were able to break below $190, the lowest price since May 2019 but it seems they were unable to have any continuation and the bulls bought the dip with a ton of volume behind it forming a nice hammer candlestick.
The 4-hour chart looks pretty good for Ethereum after a nice bull flag that was confirmed and saw continuation.
The weekly chart is not looking that great and the bulls still have a lot work to do. Their best bet at this point is to form an equilibrium pattern. The bears are quite disappointed, though, the weekly bear flag broke bearish but saw no continuation which indicates the bears aren't too confident at this point.
The monthly chart is starting to form a higher low for the bulls and confirm an uptrend.